Scholarship Recipients:
PRC is again proud to support kids through Walter Burgess Scholarships to the American Running Camp.
We have awarded 10 Scholarships – 5 at the full cost and 5 slightly below cost. These students all came highly recommended by their coaches and are all dedicated enthusiastic runners.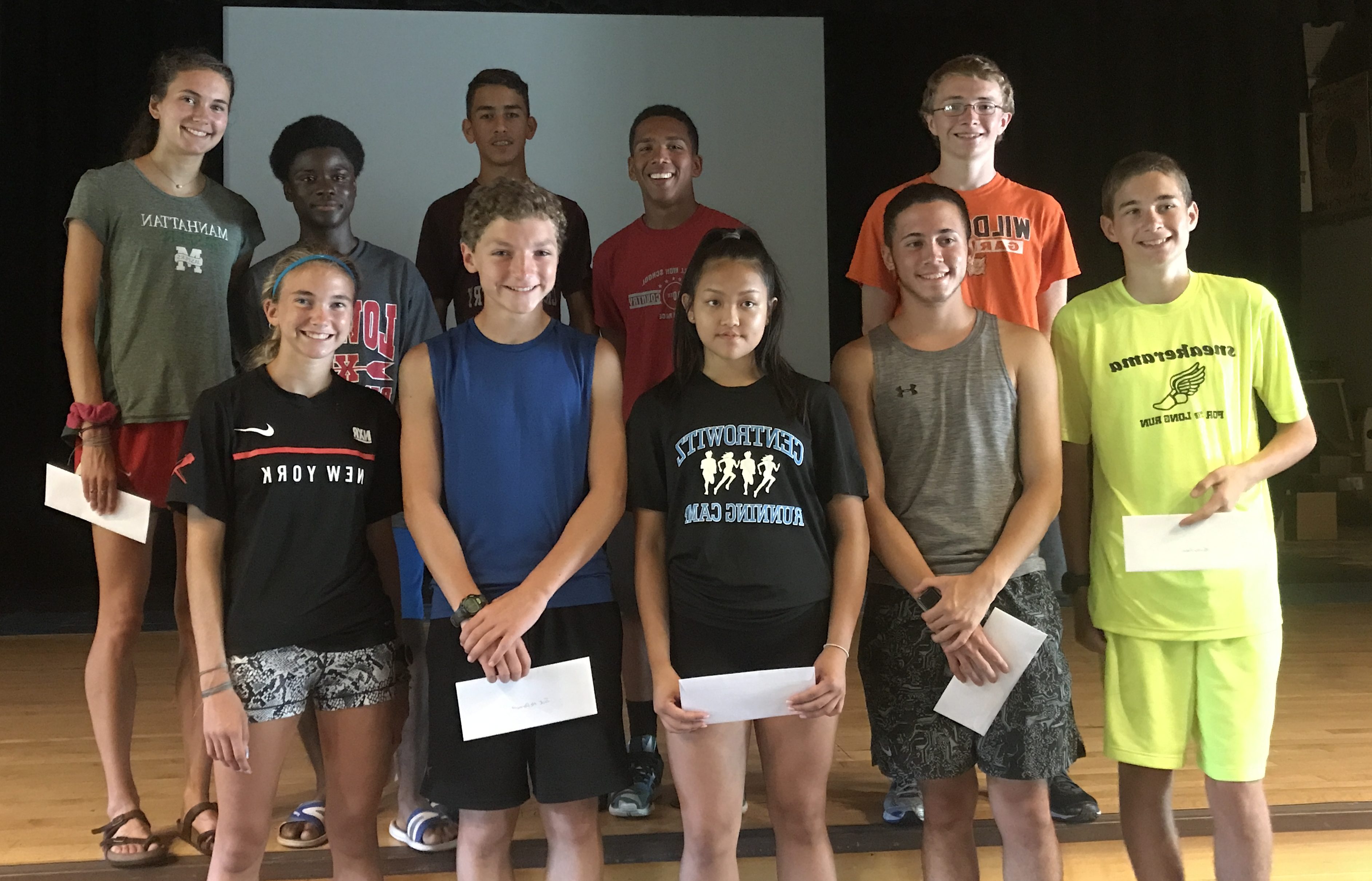 Our local recipient is a high school junior from Dedham, Alejandro Maldonado.   Alejandro says he likes to run because it makes him feel healthy – he can't live without running.  We can all relate to that! Having received one of our scholarships last year, Alejandro knows how wonderful the American Running Camp experience can be.  He has shared his positive attitude and all he learned with his team throughout the cross-country and indoor season.  He improved his 5K time and is looking forward to continued improvement this year. 
A full Scholarship was awarded to Vivian Mac, a freshman from Randolph, also nearby.  Vivian was highly recommended by her coach, Don Allison, a good friend of Walter's.   Vivian also truly enjoys running, stating that it is always good for lightening her mood.  The mental aspect of the sport is most important to her.  She claims that she may not be the most accomplished runner, but she runs to the best of her ability, striving to improve but enjoying the process along the way.  Vivian may be being modest though, as her coach states that she was one of the top runners on her varsity cross-country team. 
Due to the enthusiasm of Coach Ken Pellitier, we again have Scholarship applicants from Gardner High School.  We are pleased to award a full Scholarship to freshman, Jack McDermott, a first timer to the camp; and partial Scholarships to Hunter Graves, and Cameron Davis, who both received full scholarships last year.  Jack feels that attending the American Running Camp will help him become a faster runner and be a better asset to his team.  Hunter wrote last year after his camp experience that it tops the best thing he has ever done in his life.  And, Cameron enthuses that his fascination with the sport of running has lead him to a potential career path as he wants to continue to be involved with it in any way he can throughout his life.   All recipients that will make PRC proud to have chosen them to represent the essence of Walter Burgess himself.
Lowell High School Coach, Scott Ouellet, highly recommended 3 students – Jadiel Pinales, a junior and scholarship recipient last year, Kelvin Santana, a sophomore, and freshman Joeben Jacobs.  All three are passionate about running and hope to continue through college and beyond.  They feel that the American Running Camp experience will bring them closer to this goal and make them better teammates overall.  PRC is happy to support the efforts of these recipients as they continue to development as serious athletes.
We have two out of state Scholarship recipients, Hali (senior) and Hannah (freshmen) Ielfield, siblings from South Lewis High, Turin, NY.  Hannah has been running since elementary school and loved it so much that she talked her older sister, Hali, into coming out for Cross Country 2 years ago.  Since then, they have both been energetic and award winning participants of their team.  They also excel academically and share a strong commitment to their community and all their endeavors.  As recipients of the Walter Burgess Scholarship to attend the American Running Camp, Hali and Hannah will only enhance these abilities and leadership characteristics.
All these kids are dedicated athletes, involved in volunteer activities, who strive to improve their ability as runners.  They are the epitome of why we honor Walter's name each year with this Scholarship.  Again, we have been able to award hardworking young athletes ready to strive for more with a Walter Burgess Scholarship and thus the opportunity to attend the American Running Camp.  Walter lives on in our hearts and through these runners who would be make him so proud!