Scholarship Recipients: 
Announcing the PRC Walter Burgess Scholarships to the American Running Camp for 2019.  We have awarded 11 Scholarships – 5 full and 6 partial.  As usual, these young people all came highly recommended and are dedicated passionate runners.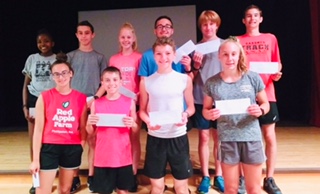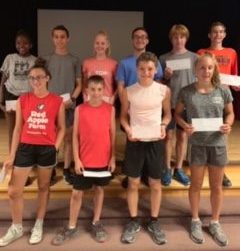 Kayla Gitonga, a high school Freshman from Randolph, is well recommended by her coach, Don Allison, a good friend of Walter"s.   Kayla started in 6th grade running with her school Cross Country Team.  Running immediately became a new way for her to challenge herself physically and mentally.  Kayla learned her personal limits and how to push them while bonding with her teammates.  She expects to continue to improve on this experience and her skills as a runner through her involvement at the running camp this summer. 
As our only applicant from out of state, Jack Magione, a Freshman from Loudonville, NY, was awarded a scholarship.  Jack started running in fourth grade and has never looked back.  Distance running is his niche, and he feels it is instrumental in his academic success as well.  Having attended Centrowitz Running Camp last year, Jack knows well the benefits of the experience and is excited about the opportunity to return again this year. 
Again this year, Coach Ken Pellitier, has recommended a number of deserving Scholarship recipients from Gardner High School: two 8th graders, Ariana Butler and Kaden DiMuccio; four Freshman Katrina Magoon, Gino DiVito, Tyler Meunier, and Kaylee Bettez; and two Sophomores, Hunter Graves and Jack McDermott, both of whom received scholarships last year.  Coach Pellitier attests that these kids are all worthy student/athletes and that they will make the most of the running camp experience.  PRC is proud to support them in their love of running, the essence of Walter Burgess himself.
From Lowell High School, we have a Junior, Kelvin Santana, who received a scholarship last year as well.  Kelvin's coach sees him as a hard working, dedicated team member who is working his way to becoming one of the best runners on the team. PRC is happy to support Kelvin in his efforts as he continues to development as a serious athlete.
Again this year, PRC is happy to reward these kids who come recommended to us as dedicated athletes, involved in volunteer activities, and who strive to improve their ability as runners.  Being able to continue to encourage and support such hardworking young athletes is why we organize the Walter Run every December.  Walter lives on in our hearts and, through these runners, we are fortunate to be able to keep Walter's legacy alive.